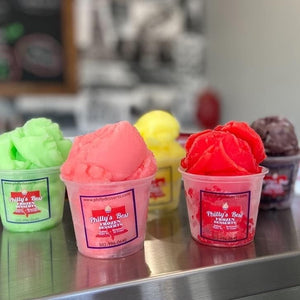 Locals Rave About Our Unique Hand-Crafted Desserts
See Why Customers Call Us The Best New Dessert Shop In Louisville.
We like to say it's "Happiness in a Cup".
Serving Hand-Crafted Ice Creams and Home Made Italian Ice.
Our wonderfully creamy and smooth Italian Water Ice is dairy-free, nut-free, soy-free, vegan-friendly and uses the freshest fruits.
We also sell wonderful Philly Soft Pretzels and scrumptious cookies.
Stop by one of our locally founded and operated stores or have the happiness come to your event with our food truck.
Scroll down to see our locations.
Or Schedule Our Food Truck
Locals Love Us
B. Vruwink - Google Review
Our Story
Hi, We are Rodney and Tonya, owners of Philly's Best Frozen Desserts.
Rodney is from Philadelphia (hence the company name) and Tonya is from New Jersey (right across the bridge).
Philadelphia has had frozen desserts for as long as we can remember. One in particular is Italian Water ice, or as we say in Philly..."Water Ice."
It is this, that we are bringing to this beautiful part of the country and our new adoptive city, Louisville and its surrounding areas.  
Its rich smooth texture soothes the palate and without fail brings a smile to one's face...everytime. Hope you enjoy this and the variety of frozen desserts we offer. 
Proud Partners
Find Philly's Best Frozen Desserts at your next sporting event. We are located at the Lynn Family Stadium and the Louisville Bats Stadium.